Our specialty is custom designed garage cabinets, from overhead hanging garage cabinets to full wall garage workspaces, we can design a solution to fit your space and budget!
Multiple garage cabinet styles and materials to choose from:
Our designers are hand picked for their design aesthetic to ensure that every design is optimized to your garage space, personal style, and organization needs, all the while meeting your personal budget. We will come to your home and give you a free consultation and 3-D design so you can visualize what your custom cabinets will look like installed.
The garage cabinets are often best complimented by wall organization systems like our slatwall product as well as refreshing the garage floor with our epoxy floor with over 20 colors and patterns to choose from.
We offer excellent customer service and attention to detail. We will help you design a garage organization system that will solve your personal storage needs. Our products are made of the highest quality material and are installed securely to meet our clients' high standards.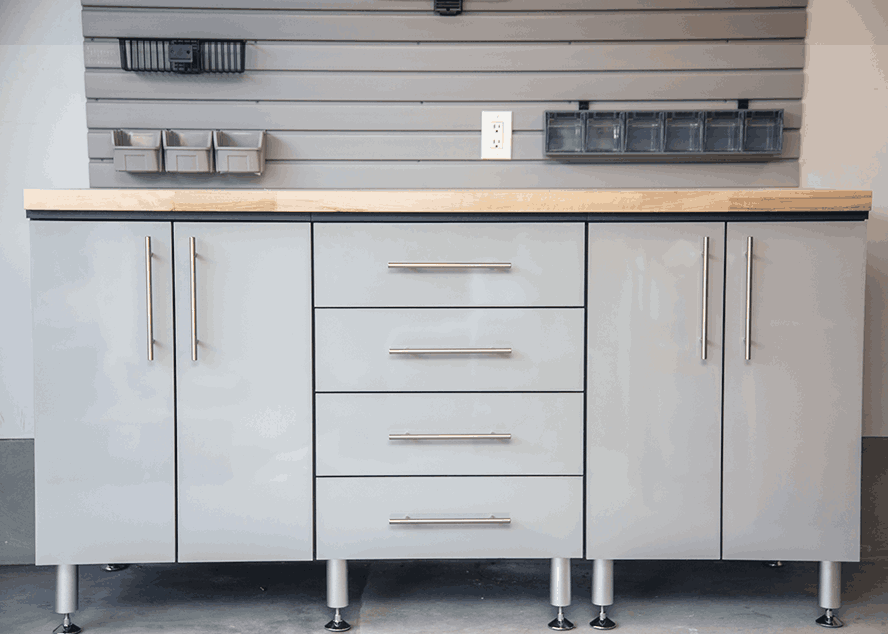 During the consultation scheduling call, your customer service representative will be able to guide you on approximate pricing & various solutions to meet your goals and garage size.
One of our garage specialists will arrive
to inspect your garage and provide a
free consultation & design right there
on the spot.
You can review your design in our innovative 3D software so you can see
your garage cabinets, slat wall, or epoxy floor come to life.
Fill out the form below or
call (502) 335-4164 right now to get started.
Garage Remodeling Services
Your source for garage cabinets, slat wall systems, epoxy coated floors
and more. We offer a complete garage organization solution.
Does your garage need a makeover? It's never been easier! Our goal is to help you get everything off your garage floor and stored neatly. Whether in Cabinets or overhead storage – we have been specializing in Garage Upgrades for years!
Get the garage of your dreams! Call to schedule your in-home appointment. Our hours are Monday – Friday from 8:00 a.m. to 5:00 pm. We serve the entire Louisville Metro. Let's get started on your garage today!
In most cases, we can give you a total garage redesign in about an hour.  Estimates may take longer for more complex projects.
Free 3-D Design – We Come to Your Home.  Call Today!